Technology Center SCCE in Rodgau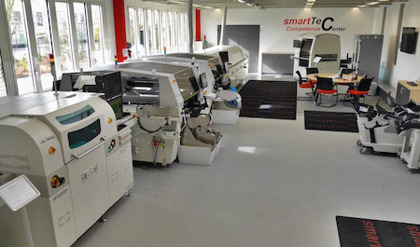 Our technology center SCCE, equipped with manufacturing systems from our sales program.

To relieve your production facility, we are pleased to offer you our support:
Selective coating of sample types and small batches
Evaluation of paints and dispensing media
Program creation and library maintenance for pick-n-place
Reflow & vapor phase soldering application
Selective soldering application
Optical inspection of small batches
Assembly and template cleaning
Of course, we are also happy to assist you in your assembly production with words and deeds.

Use our Know-How!
Rodgau Democenter consist of:
2x SMD lines (including): Screen printer, SJ Innotech, Pick and place Universal - Genisis GC-120Q (136.000 cph/h) & Universal - Genisis GX-11S (Advanced packaged)
Reflow owen: Exelsius 7-zone
VaporPhase soldering: R&D VaporTech
Selective Soldering: Nordson SELECT
Cleaning Equipment: Pbt SuperSWASH
Dispensing and coating line: Nordson ASSYMTEK
AOI line: CyberOptics
Complete range of bench top and rework equipment
Everythin in-house in our 600m2 area
Our services at a glance
Competent, personal and innovative
adviced staff consisting of more than 50 people covering smartTec territory in 6 countries:
Germany
Austria
Denmark
Norway
Sweden
Switzerland
Of the staff there are about 30 certified technichians to help you in training/support and to set-up the machines. We present information in various topics relating to manufacturing and assembly processes to the electronic industry. We do this on a annually basis by attending trade shows as the SMT show in Nürnberg and Productronica show in München.
Use our Know-How!
Technology Center (SCCE) at the smartTec facility in Rodgau. Offer Customer a unique technical support and training.
Hand soldering/Rework – IPC Training
Machine soldering – Vapor Phase, Reflow, Selective, Wave
Paste handling Process and Optimizing
Fume Extraction, MSD-storage
AOI/SPI, Vision, Microscope, Selective Coating
PCB-Cleaning, Washing Fluids
Consumables – Tin, Bars, Flux, Paste, Wire
industry 4.0 interface, traceability
Cleaning trial with reports
Laboratory Report – X-ray, Analyze, Microscope, cleaning