The performance of the print process has a critical effect on end-of-line yield. It is known that around 70% of board defects detected at end of the line have their origins at the printing stage.

Manufacturers cannot afford to cut corners when setting up their print processes, or sacrifice process control to boost cycle time. Yet speed is of the essence in order to meet tough cost targets and turnaround times.

ALPHA® Stencil products are based on unique blends of advanced technology, the experience gained from having made over half a million solder paste stencils, the specialist knowledge that could only be accumulated by a company privileged to produce both solder pastes and printing stencils, all combined with a genuine will to meet your most stringent delivery expectations.

The assortment consists of:
ALPHA® tensoRED® - New tension support frame
ALPHA® CUT HR2 - New Best In Class Stencils
ALPHA® Tetrabond - Our standard Stencils
ALPHA® Precision Milled Stencils
ALPHA® Cut
ALPHA® Nickel-Cut
ALPHA® Form
ALPHA® Step

smartTec is a total solution provider for your screen printing process. We have the products as well as the knowledge to ensure you a reliable SMT screen printing process.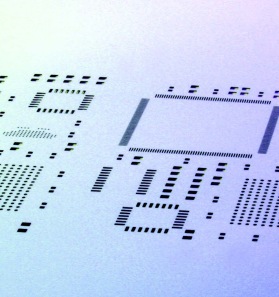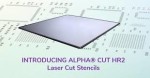 ALPHA® CUT HR2 Laser Cut stencils retain the best-in-class shape, positional accuracy and wall quality associated with ALPHA® CUT, with the added benefits of improved print definition and reduced variation in the solder paste deposit.

ALPHA® CUT HR2 improve:
• Volume repeatability
• Print yields
• Paste transfer efficiency
• Print definition

ALPHA® CUT HR2 Laser Cut Stencils are available in common formats.










ALPHA® tensoRED® Master Tensioning Frame is the latest development in Alpha's stencil range of state-of-the-art printing stencils. ALPHA® tensoRED® has been designed to reduce the total cost of ownership of stencils compared to other systems by creating tension without the need of air pressure being applied to the frame.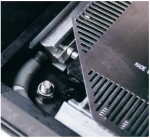 All ALPHA® Stencils are available as frameless foils for mounting in ALPHA® Tetra and VectorGuard foil frames. Alpha are now taking this technology to a new level with the launch of ALPHA® Tetrabond™. ALPHA® Tetrabond™ is the culmination of "frameless" stencil development; an elegantly simple system designed to enhance the rigidity of the foil, making safe mounting and demounting an easier proposition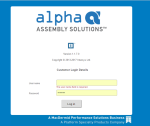 Direct access to the production database that Alpha's stencil operations use to control the manufacture of your stencils.
We believe that this gives You the tools that will allow to more efficiently manage stencil needs and make the ordering/tracking of stencils more efficient.
Real time follow up of status of the stencil order. Place orders for stencils.
Ask for your log on and password details and get started
User name and Password provided by
smartTec sales staff