There are a number of processes and steps involved in the printed circuit board manufacturing process. Out of these several steps, the inspection stage is very important and crucial.
There are two basic reasons why Inspection is performed:
To verify the product meets customer specifications
To make sure the product meets workmanship standards
Inspections may be performed manually or by using automated inspection methods. Our range consists of well known brands in the inspection area.

Feel free to contact our sales staff for further information or a demo.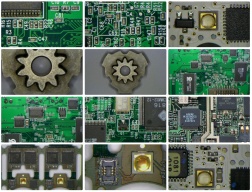 Vision Engineering Ltd is a global leading-edge manufacturer of unique ergonomic stereo microscopes and non-contact measuring systems.
Choosing our patented products provides you with unparalleled clarity and precision.
CyberOptics Corporation is a leading global developer and manufacturer of high precision sensing technology solutions.
CyberOptics sensors are being used in general purpose metrology and 3D scanning, surface mount technology (SMT) and semiconductor markets to significantly improve yields and productivity.
Inspectis HD/UHD Digital Inspection Systems, designed and manufactured in Sweden.
Elegant solutions for modern optical inspection tasks that are ready to use from the moment you plug them in. A variety of different setups and accessories designed according to industry standards.