Electronics manufacturing services (EMS) providers are frequently asked if they offer "traceability" on the materials they procure. Then there is the follow up question - the one the original equipment manufacturer (OEM) really wants answering – "how far can you go back?"

Are you aware and ready for the next step?
Industry 4.0 is expected to bring about many changes in the manufacturing industry in the next ten years. But what exactly is Industry 4.0 and how can small and medium-sized companies stay ahead of the competition in this rapidly changing world of automation.

Concist of Project Engineering, project management, including line design and specifications.

Smart Automation with smartControl dynamic
The smartControl concept offers an intelligent combination of software and hardware for the automation of assembly manufacturing. The hardware consists of a smartRead module for reading and writing using RFID technology as well as smartTouch interfaces for operation, input and visualization. In addition there are intelligent transport modules with integrated communication interfaces under the name smart.e.connect.

With the concept, traceability and process locking as well as many other central functions can be realized elegantly even without higher-level MES systems.

Based on the RFID-based automation concept smartControl 4.0, smartControl dynamic opens up further interesting prospects for the modular integration of the areas of materials management, material flow and logistics.

One might think of highly flexible, individually addressable transport modules with integrated return transport as well as robot transport systems for automatic magazine transport between warehouse and line or between different lines.

Of course, even production structures with multiple lines can be easily organized in interaction.

In short: With SmartControl dynamic, smartTec offers medium-sized users a universal and powerful tool for future-oriented automation solutions.

How can smartTec help?

Our main strength is our knowledge of the customer's manufacturing process.

Contact us for a consultation in the selection of your investment.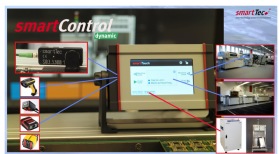 Download our latest leaflet on Transportmodules