smartTec Nordic is a full solution provider of equipment and materials for electronics manufacturing.

Equipment - Consumables - Service - Process support
Nordson Select - Synchronous motion
selective soldering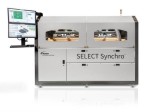 NEWS!!!

Nordson Select
has created a machine that revolutionizes Selective soldering!


The SELECT Synchro™
uses a groundbreaking new synchronous motion technology to profoundly transform traditional selective soldering processes. Synchronous motion dramatically reduces conveyance time. Single-sided, double-sided through-hole, or mixed-technology surface mount and through-hole assemblies travel continuously through the system

Contact one of SmartTec sales rep`s for more information





Productronica 2023
November 14th to 17th, 2023

Be there when we present the latest product innovations together with Amtest at productronica 2023.
Experience groundbreaking developments in the semiconductor and electronics industry on site.
Our team of experts will be on site to give you exclusive insights into the most advanced solutions and technologies.
Take advantage of this opportunity to network with the leading minds in the electronics industry, make valuable contacts and exchange ideas about the future prospects of the industry.
Be there and experience the future of the electronics industry live at productronica 2023.
We look forward to your visit at our stands A2-532, 537 & 540 !