smartTec Nordic is a full solution provider of equipment and materials for electronics manufacturing.

Equipment - Consumables - Service - Process support
smartTec exhibit at SMT-show in Nürnberg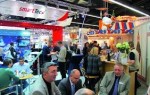 5-7 June 2018
SMT Hybrid Packaging in Nürnberg

Europe's leading event on System Integration in Micro Electronics - the perfect information platform for you.
Our booth will be in Hall 4:101

We welcome all of You to visit our booth.
The major partners of our line-card will be present and of course the whole smartTec Team will help you out with the presentation of our range.

A lot of new updates of both the machine range and the range of consumables will occur.

See You there!

5-7 June 2018
SMT Hybrid Packaging in Nürnberg
Europe's leading event on System Integration in Micro Electronics - the perfect information platform for you.
Our booth will be in Hall 4:101